Vantablack Samples and Development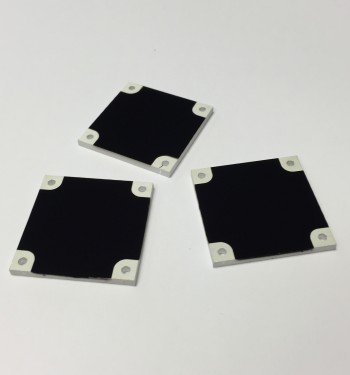 Samples cannot be purchased by private individuals as the coating is subject to UK export controls.
Vantablack® is applied or 'grown' onto substrates using a unique chemical vapour deposition (CVD) process. Surrey NanoSystems currently provides Vantablack as a coating service from its processing facility near Brighton, East-Sussex in the UK. The Vantablack process may also be licensed for use in specific manufacturing applications.
How Vantablack is best-used can usually be worked-out in a phone call, with the help of diagrams or drawings of the proposed application. Surrey NanoSystems evaluates the application (substrate material, its shape and size, thermal mass etc.) to identify the optimal solution. This may be through direct application to the actual product, or through the use of inserts or tiles that are applied during assembly of the product.
Standard samples of Vantablack or Vantablack S-VIS are readily available for user evaluation* Sample formats are as follows: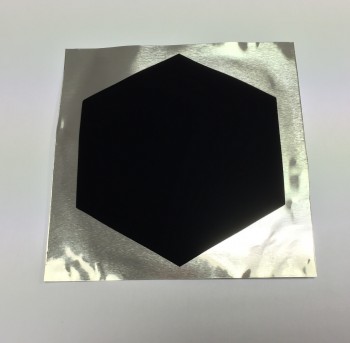 Aluminium coupon 40mm x 40mm x 3mm - coated on one face
​Aluminium foil 100mm x 100mm with a hexagonal Vantablack coated area on one side
OFHC Copper coupon 75mm x 25mm x 1mm
Educational 'crinkled' foil sample in an enclosed display case
*Depending on the end application, a UK Government export license may be required. As Vantablack finds application in defence and other sectors, it has been classified by the UK Government as 'dual use'. So, some clients may require an export licence. Generic samples for customers outside of the UK require an export licence (see below) - this process normally takes around four weeks. A nominal charge for samples is made to cover costs inclusive of export compliance.
Sample Request order Form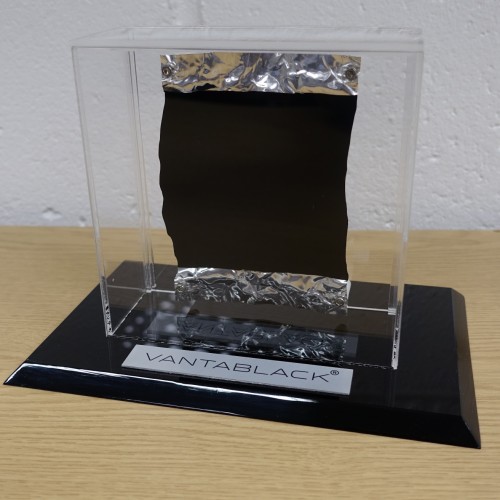 Please click here to open a sample order form (please note that an order will only become valid once acknowledged in writing by SNS)
Export Documentation for Samples
Non-UK customers are required to complete one of the following undertaking forms in order to comply with UK export legislation (form download will start as soon as you click the links).
Customers in Canada, France, Germany, Italy, Japan, Norway, Poland, Spain, Sweden, Switzerland, USA only, please complete the OIEL undertaking letter
All other non-UK customers, please complete the SIEL undertaking letter
Find out more
Contact us on
+44 (0) 1273 515899,
or see our contact page.