A super-black coating suited for use in open, aesthetic and terrestrial optical applications
Vantablack VBx 1 Datasheet
VBx 1 Super-black, non-nanotube visible spectrum coating for use in aesthetic design and architecture.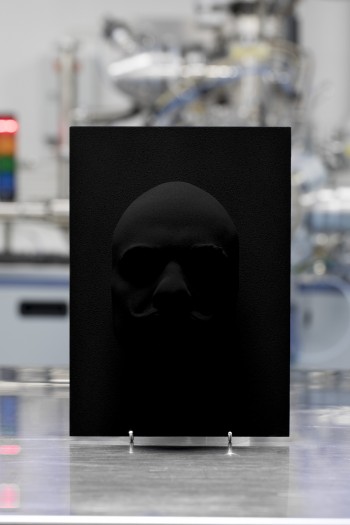 VBx FAQs
Due to increasing demand for visible spectrum, super-black coatings suitable for use in open, aesthetic and terrestrial optical applications, we have developed Vantablack VBx 1. The coating's level of reflectance (in the visible spectrum) approaches that of Vantablack S-VIS, so it's more than capable of producing the infinite depth and void like forms where the viewer's dimensional perception is challenged at every viewing angle. It also offers exceptional performance in stray light control in industrial lighting, optical sensors and automotive systems.
The Vantablack VBx 1 absorber coating is a solvent based, pigmented coating dispersed in carrier solution. It has no harmful constituents. Once sprayed, it leaves behind a structured light absorbing layer that is then subjected to further vacuum processing steps to reach its exceptional level of performance. Vantablack VBx 1 is so effective that its reflectance far outstrips any other known paint or super-black coating other than carbon nanotube based Vantablack S-VIS and original Vantablack.
Because it requires post processing the largest single component part is currently limited to 420mm x 420mm. The process can be scaled to much larger single part sizes when required. For large area projects please refer to VBx 2 as this has no scale limitations.
Please note that VBx 1 is not available in a spray can, and at this time, it is currently classed as dual-use by the UK Government. This means that it cannot be sold to private individuals. In addition to the above, VBx 1 requires specialist processing after application, so component parts can only be coated by SNS and its partner sites.
Please review FAQ's on Vantablack VBx 1 to see if it might be suitable for your application.
Vantablack VBx 1 technical specifications:
THR (total hemispherical reflectance) 0.35% at 600 nm
Shock and vibration resistance to > MIL-810G
Thermal shock and cycling from -196 to +70°C
Hydrophobic
High performance at extreme viewing angles >70° (TIS - 0.67% at 70° VIS)
Application temperature ~20°C
Applying Vantablack VBx 1
Vantablack VBx 1 is applied at room temperature using a spray painting process, providing very great flexibility of application. To reach its optimal optical performance it requires vacuum post processing.
Typical substrates that VBx 1 can be applied to are as follows:
Metals
Polymers
Ceramics
Glasses
All substrates should be vacuum compatible and not adversely impacted by the solvent in the coating during the spray application process.
Samples and development
Samples of Vantablack VBx 1 are readily available for user-evaluation. Depending on the end application, a UK Government export license may be required. As VBx 1 finds application in defence and other sectors, it has been classified by the UK Government as 'dual use'. So, some clients may require an export licence. Generic samples for customers outside of the UK require an export licence - this process normally takes around two weeks. A nominal charge for samples is made to cover the cost of export compliance.
What can Vantablack VBx 1 be used for?
Architectural features that interact with changing lighting conditions
Invisible lighting sources
Architectural lighting overspill control
Automotive sensing
Optical stray light suppression in lens systems
Aesthetic design
Technical Datasheet
To download VBx 1 technical performance data in PDF format, please go to our resources page.