Unique coating technology that helps change the way we perceive the environment around us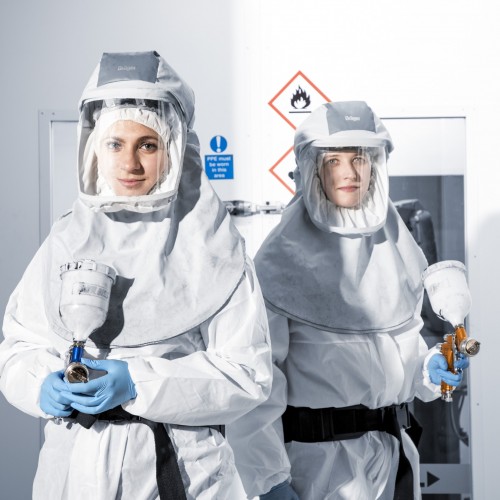 Vantablack VBx super-black coatings respond extraordinarily to all types of light, delivering a unique user experience in design, aesthetics, architecture and lighting by reducing reflected light to a level where the viewer's perception of 3D space is challenged from every viewing angle. Unlike our broadband carbon nanotube based coatings, these coatings are designed for visible spectrum applications where the designer wishes to create a truly unique space or feature, one that's never been possible before due to the inherent limitations of conventional black paints or the complexity of applying carbon nanotube technology.
In addition to aesthetic design, both VBx 1 & 2 provide exceptional performance in stray light suppression applications. With the ever increasing range of optical sensing systems in use today, improving their reliability in bright sunlit conditions always provides a significant technology challenge, but one that VBx is helping to overcome. Both VBx 1 & 2 have been created from non-hazardous materials, and have no harmful components once applied.
The coatings are available as VBx 1 with a total hemispherical reflectance of 0.35% and VBx 2 with a total hemispherical reflectance of 1%. In addition to the lowest commercial reflectance in a spray paint, they also offer an almost perfect Lambertian surface, so will challenge the viewers perception from any viewing angle. For more information, check out the VBx FAQs.
VBx 1
The coating's level of reflectance in the visible spectrum approaches that of Vantablack S-VIS, so it can produce the infinite depth and void-like forms where the viewer's dimensional perception is challenged at every viewing angle. It also offers exceptional performance in stray light control in industrial lighting, optical sensors and automotive systems.
Learn more
VBx 2
Vantablack VBx 2 was created for large area spray application in areas such as architecture, ceiling blackouts, controlled lighting environments and other large area applications where designers wish to create unique visual spaces, or control reflected light in ways that have previously been impossible on a large scale.
Learn more
Find out more
Contact us on
+44 (0) 1273 515899,
or see our contact page.